Presentation
©Région Lazio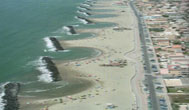 In December 2006, the regions of the Mediterranean set up a Working Group on Maritime Policy under the aegis of the CPMR Intermediterranean Commission, in order to contribute to the design and delivery of a Mediterranean maritime policy.

This contribution is part of an integrated and sustainable approach. It concerns the thematic areas of marine pollution, integrated management of coastal areas (ICZM), adaptation to the consequences of climate change, fisheries, marine research, transport, maritime safety and maritime policy governance.

In the Mediterranean, regional authorities' efforts to implement European regulations and Mediterranean agreements on these maritime issues suffer from a lack of transparency, which is why cooperation between those concerned is necessary.

The dialogue developed by the Mediterranean regions during this work has made it possible to:

- identify some issues and priorities which are shared by the member regions and to propose common areas of action;

- observe the lack of consultation and absence of partnerships between Mediterranean regions;

- observe the lack of consultation between the regions and other institutional levels on Mediterranean maritime issues.

The discussions held in 2007 and 2008 made it possible to draw up a 2009-2011 work programme to improve this situation.

To have the resources they needed in order to implement the priority actions identified, the regions involved in the working group developed the MAREMED project, which meets the objectives of the MED programme.

The MAREMED project was submitted to the transnational territorial cooperation programme (Mediterranean area).